WELCOME TO AMMAN ENTERPRISES
Amman Enterprises takes pride in launching its brand new web site, and feels honoured to welcome you to the world of heavy machinery. Located in the heart of Salem, the Steel city of India, Amman Enterprises has an excellent reputation as one of the leading distributors of original and quality replacement parts for a wide range of heavy earth moving machinery, compressor and mining equipment spares. It is also known for its exceptional servicing of heavy machinery.
Amman Enterprises is a trading firm engaged in the marketing of quality spares specializing in the excavator, compressor and other mining equipment segment.We represent various quality manufacturers and our Endeavour is to provide an extensive rage of spares under one roof, focus on the quality, and availability of spares at a reasonable price and service. We take this opportunity to further renew our commitment and relationship with our customers who are the pillar of strength for us.
Amman Enterprises distribute an extensive range of original quality replacement parts for excavators bulldozers, dumpers, compressors made by established manufacturers such as Hitachi, Komatsu, Volvo, Doosan, Caterpillar, Kobelco, Hyundai and ELGI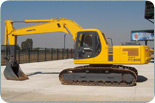 With over 17 years of expertise in the industry, Amman Enterprises continues its voyage of success by incorporating new ideas, acquiring new partnerships, winning impressive deals, establishing long-term client partnerships and growing to become the most sought-after company in this industry. We would like to take this opportunity to thank our clients, business partners, dealers, and staff for their trust in the quality of our products and services. We sincerely hope that this journey of success continues through our joint dedicated efforts.